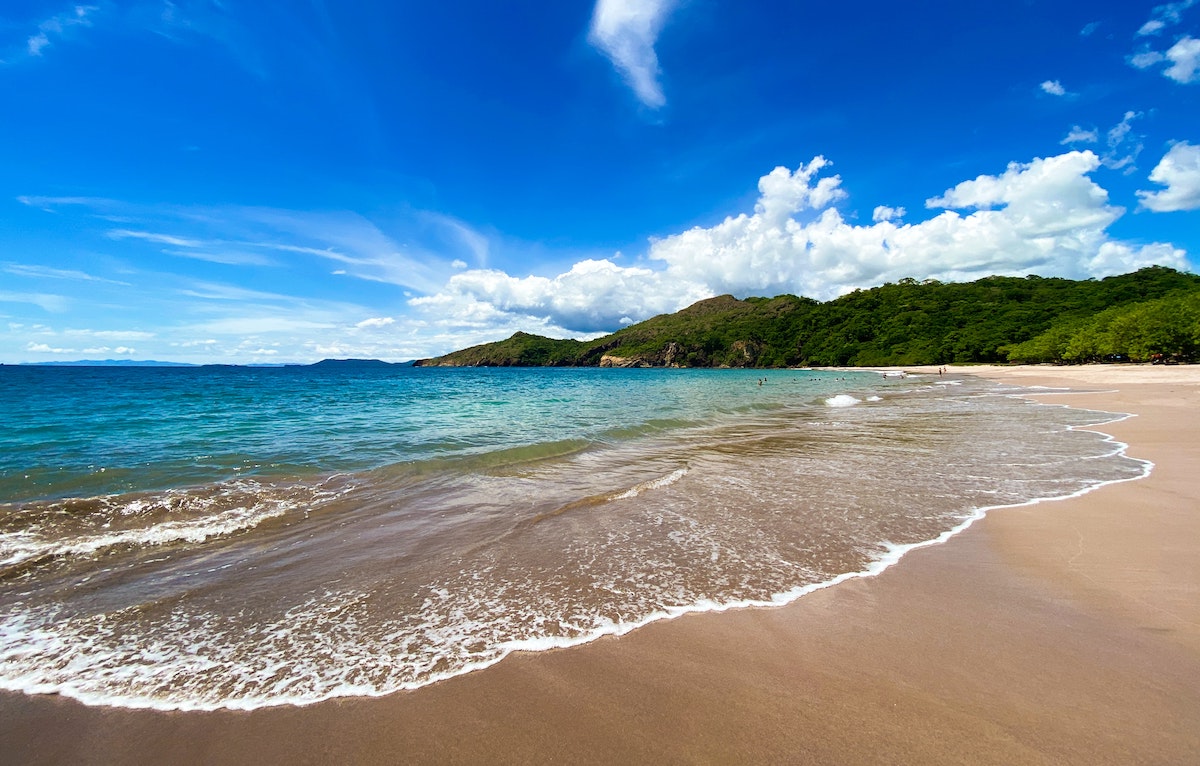 Not everyone wants to retire in a foreign country but tens of thousands of retirees have made the choice to retire in Costa Rica. Why? In a nutshell it's a mix of quality of life and value. Those on a fixed retirement income want to get the most they can from each dollar they receive without sacrificing on quality of life.
Costa Rica is a small, beautiful country located in Central America. It has been called the Switzerland of the Americas. Costa Rica's national motto is "Pura Vida" or pure life. It encompasses all that Costa Rica is. Pura Vida is a lifestyle. It could be summed up as: "don't worry, everything is fine".
Where to retire in Costa Rica
We are biased towards Papagayo in the northern Guanacaste region for many reasons, most having to do with quality of life and value. Homes in Guanacaste have historically gone up in value and are much easier to sell should a sudden need arise. Homes in other parts of the country can take a long time to sell because there are fewer buyers, whether foreign or local.
Still some choose to live near San José in the Central Valley, 3,000 feet above sea level. Others choose to live on the Caribbean coast or in the southern zone along Costa Rica's Pacific coast near Dominical or Uvita. There is also a community of foreigners near the town of Jaco in the central pacific zone.
None of these areas have the quality of life available in the Papagayo region, which is why over $400 million in hotel investment alone has been dropped in this area. This includes world famous hotels such as the Four Seasons and Andaz. Golfers can enjoy a day at the signature Arnold Palmer golf course. Hundreds of millions more are slated to be invested in the area, which bodes well for those who decide to own property in the Guanacaste area.
The Papagayo has some of the best weather in the entire country. With the exception of the Central Valley most other areas of Costa Rica have a higher level of humidity, and some expats have difficulty adjusting. In some places they end up installing air conditioning for the heat and a dehumidifier to stop the mold and mildew from growing. During the rainy season some areas have poor drainage and flooding is an annual event. We do get our fair share of rain during the season but accumulation runs off quickly and we are not stuck due to washed out bridges.
Another reason we prefer this area is the mix of people and cultures. Americans, Canadians, Europeans and even a few Aussies have made their home here. Many locals speak English so it's a lot easier to let the butcher know the exact cut of meat you need for the barbecue this weekend.
Our recommendations for the perfect retirement destinations in Costa Rica include:
Playas del Coco
The town where everything is happening. Playas del Coco is the hub of the Papagayo region with the most activities, shopping, restaurants, bars, spas and more. It's a place where tourists and expats mingle. Once you land at Liberia international airport you can be sipping a cold one at the Lizard Lounge or Coconutz bar in 30 minutes. Read more about Playas del Coco.
Playa Hermosa
Playa Hermosa is a quaint little town only about 10 minutes north of Playas del Coco and is dotted with luxury condo and home communities. The beach composed of soft salt and pepper sand, very beautiful and great to walk on. It is also one of the few "Blue Flag" beaches in Costa Rica. Blue Flag is a government designation for beaches that are clean and have environmental practices in place. It's the kind of place you can still find sand dollars on the shore. The beach is gentle and safe for children. Hermosa even has a movie theater! Read more about Playa Hermosa.
Papagayo Peninsula
Although Papagayo is a region, there is a peninsula that juts out from the coast creating one of the deepest and most protected natural bays south of the US border. The Peninsula, a 2,300 acre development is the center of luxury in Costa Rica with exclusive luxury homes scattered along the peninsula with golf course and Pacific Ocean views. Many famous and wealthy persons own second or third homes in this area. This is the perfect location for those who are seeking an exclusive luxury experience. Read more about Peninsula Papagayo.
Playa Panama
If you desire solitude and want to live in a community that is still at its early stages of development then Playa Panama is for you. The beach is over 2.5 kilometers long and the waters are gentle and friendly. One of the best parts of Playa Panama is the beautiful views that overlook the north cusp of Bahía Culebra. It's only a short hop to the Papagayo Peninsula and its full service 300 slip Marina. Read more about Playa Panama.
There are several other wonderful communities in the region. You can read more about them here:
How much money do you need to retire in Costa Rica?
In this case we are estimating the cost of living based on relocating to one of the beautiful beach towns in northern Guanacaste province amongst the international community made up of locals, Europeans and North Americans.
Not including rent or a house payment a couple can live near the beach on about $1,500 to $2,500 per month depending on tastes and lifestyle. This includes, food, utilities, gas and internet. On this budget you will be able to buy some of the food brands you miss from home at one of the high end local grocery stores, such as AutoMercado. You can stock the pantry with a few choice wines from Argentina, Italy, France or Australia; buy some freshly baked baguettes at the local bakery, and eat out fairly regularly at the many fine restaurants in the Playas del Coco area. Spend a few dollars more to have the occasional relaxing massage on the beach in Playa Hermosa, or play a round of golf at one of the many fine golf courses in the area.
This may sound surprising at first, but when you put things into perspective, you'll realize that living near a luxurious beach located in a tranquil land elsewhere will cost way, way more (think Hawaii or southern California).
Most foreigners who come to Costa Rica from the US, Canada or Europe are surprised at how affordable it is, especially when they make use of some of the local farmers markets combined with shopping at the larger grocery stores.
If I live in Costa Rica, can I collect my Social Security?
Yes. We have many friends and acquaintances here who have no issue collecting their pension. Most use online banking to transfer funds from the US or Canadian account to a Costa Rican bank so they can make their local purchases. Some simply withdraw funds from local ATMs and don;t even bother with transfers. It's whatever works for you.
Does Costa Rica tax my retirement income?
No. Costa Rica does not require you to pay income tax on your sources of income from outside the country, including Social Security payments.
Another benefit for U.S. citizens living in Costa Rica. If you qualify as an American citizen residing abroad (having lived at least one year abroad), there are two methods by which you can reduce your US tax by a substantial amount. These are the "Foreign Earned Income Exclusion (FEIE)" and the "Foreign Tax Credit."
You still must file your taxes even if you don't owe any income tax provided your income was above the filing threshold.
As of the 2020 tax year foreign residents who qualify can exclude up to $107,600. For example, if you earned $120,000 working outside the U.S. you would deduct $107,600 from this amount and pay tax on the difference ($12,400). Be sure to speak with your tax specialist about your personal circumstances and how to qualify for these tax benefits. Here is some good information to help you understand how all this works.
What about medical care?
WHO's 2000 survey ranked Costa Rica as having the 36th best health care system in the world, placing it one spot above the United States at the time. Costa Rica's medical colleges and doctors are on par with the best in the world and considered the best in Latin America.
Costa Rica has become known as one of the best medical tourism destinations in the the world. Many come here for dental implants and cosmetic surgery due to the very high quality and lower costs. The two best known private hospitals in the country are Clinica Biblica (founded in 1921 by Scottish missionaries) and CIMA. Both have several hospitals in the country staffed by hundreds of doctors specializing in all areas of medicine. Both have received the Gold Seal of Approval by the Joint Commission International standards. Many of these doctors work part time in the public sector ensuring that the very best doctors are available to all citizens of Costa Rica.
How to gain permanent residency status in Costa Rica
There are several ways to qualify for permanent residence in Costa Rica. Here is a very basic overview of the three ways.
Pensionado: If you or your spouse have a minimum monthly retirement pension of $1,000 per month you can apply to be a "Pensionado". One of you must have $1,000 or more as your pension - you cannot combine the two pensions to reach the $1,000 threshold. Under this status you can apply for permission to live in Costa Rica for 2 years at a time. Every 2 years you will have to renew your status. After 3 years you can apply for permanent residence.
Rentista: Must have an income of at least $2,500 per month (from say a Trust). The money must be deposited monthly in a local bank. Renewed every 2 years. After 3 years you can apply for permanent residence.
Inversionista (Investor): A new law was recently passed by the Costa Rican Congress--the Law to Attract Investors--which aims to stimulate foreign investment in the country and make life generally easier for retirees wishing to get residency in Costa Rica.
The law reduces the amount of required investment to apply for residency status from $200,000 to $150,000. The investment can be in real estate or a business. It even comes with additional incentives like beneficiaries being allowed to import up to two motor vehicles, free of all import duties and taxes. This is a great benefit because cars in Costa Rica have high import duties.
You can also import all your household items tax-free. While the law was just passed this year, it is definitely an incentive for those who have been sitting on the fence about plans to retire in Costa Rica. Suffice it to say, the new rules are very favorable to future residents.
Becoming a Costa Rican Citizen
If you have been married to a Costa Rican for at least two years, and have remained in the country for at least two years, or if you have been a legal resident for at least seven years in Costa Rica, you qualify for naturalization or citizenship.
Start Planning Your Costa Rica Retirement Today!
Costa Ricans, known locally as "Ticos", are a very welcoming people. The weather is amazing. The quality of life is so good it's difficult to put into words. Add exceptional healthcare and accessibility and you have even more reasons to consider Costa Rica as a place to retire over other countries.
Property prices in this region of Costa Rica rarely go down. If you are considering retiring or investing offshore there is no better time than the present. There is a place for everyone in the Papagayo region of Guanacaste. If you still have questions feel free to drop us an email or give us a call. All our agents are legal residents of Costa Rica. Each one owns property here and have already been through all the relocation experiences you may be concerned about.