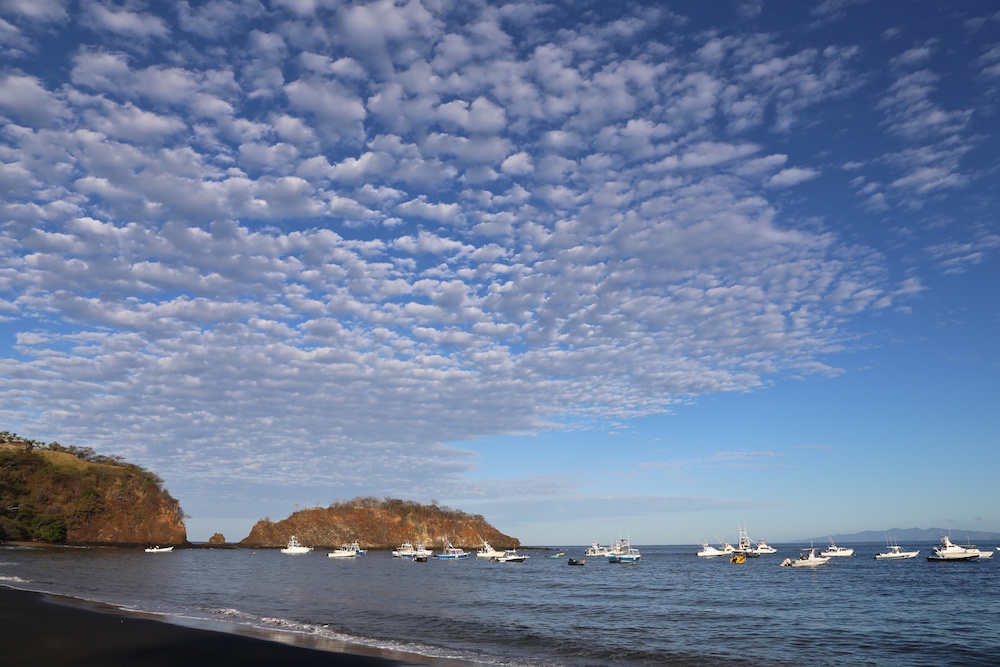 Playa Ocotal is just two miles south of Playas del Coco, but it seems a world away.  Instead of the shops and restaurants, hustle and bustle--characteristics of Playas del Coco--Playa Ocotal blesses  its visitors with peace and solitude, rest and relaxation.  The setting is the picture of paradise.  Tree covered mountains descend to the dark sand beach that embraces Ocotal bay.  Boats of all sizes bob from their moorings.  The clear, calm waters offer some of the best snorkeling in the Papagayo region, and the headlands at both ends of the beach are just begging to be explored. Secluded Playa Ocotal was awarded the blue flag in recognition of its cleanliness and safety.
History of Playa Ocotal
The Ocotal neighborhood was part of a hacienda owned by the Guillen family.  They lived in a beachfront home built in 1917.  Development of the area was sparked by sportfishing in the early 1980s.  The hilltop Ocotal Beach Resort was designed to cater to the fishermen.  Father Rooster restaurant was opened in 1985 in the former Guillen hacienda home.  As the village grew, so did the need for additional infrastructure including restaurants and lodging facilities. This in turn led to the construction of permanent housing for vacationers, expats, and workers alike.  Today the hills that surround Playa Ocotal are dotted with oceanview homes, villas, and B&Bs for every taste and budget. 
Restaurants
Father Rooster Beachfront Bar & Grill is famous in Ocotal and for miles around. Its beachfront location is special, but it's not where the building was originally located.  To comply with a new maritime law, it was dismantled in 2009 and rebuilt three meters farther inland. Locals and visitors are glad they stayed open. They love the tacos, burgers, and fresh seafood and rave about the great service.  And that comes with live music and a beach and sunset view.  Santorini Greek Restaurant, just off the road between Ocotal and Playas del Coco, is another outstanding dining experience.  Enjoy fresh and authentic Greek food served by a friendly staff in an elegant atmosphere.  Many tout it as their favorite restaurant in the area.  For simpler fare, try Pizzeria La Caveja, also located between Ocotal and Playas del Coco.  Their thin-crust pizza, baked to a perfect crunch in a wood-fired oven, will hit the spot after a day at the beach. 
Shopping
There are few stores in Playa Ocotal, but it's not far to shopping in Playas del Coco.  The first grocery store you come to on the way is Super Mini Oasis where you can find the basics.  Drive a few more minutes and you will be in the center of Coco which boasts multiple supermarkets and some specialty stores.  Automercado has the widest selection of locally sourced and imported foods as well as a deli and a wine, beer, and spirits section.  If you need medical or dental care, a bank, or a gas station, you will find them all just 10 minutes away in Coco. 
Things to do
Playa Ocotal is only 1/3 mile long, but don't let its diminutive size fool you.  There are still plenty of things to do.  Marine life is abundant in the bay, and you can discover it by snorkeling or by searching the pools left behind by the outgoing tide. Ocotal is the launch point for fishing and scuba diving in the region.  Scuba boats head out to dive sites at Monkey Head Rock, Tortuga Islands, and Bat Islands.  Playa Ocotal is a great place to ride a horse or rent a bike. Families love it because the waves are small--ideal for the little ones to play in the water.  It's also a great place to do nothing at all under one of the numerous shade trees that line the beach. 
Where to stay
In addition to the many B&B's and nightly vacation rentals, Ocotal features large resorts with all the amenities you could want.  Foremost among these is Bahia Pez Vela Beach Resort which overlooks the bay adjacent to Ocotal.  It offers 40 airy villas with kitchens, beachfront dining, and two infinity pools.  Enjoy the view of the ocean from your room, or take the easy access to the beach for a dip.  Pura Vista is a 6 room adults-only boutique hotel located in the heart of the Ocotal village.  Guests praise its modern decor, superior service, breathtaking views, and free breakfast.  If you're looking for an extended stay or even relocating to Ocotal, Los Almendros may have what you need.  The modern 2, 3, and 5 bedroom condos are fully equipped, and the grounds are beautifully landscaped.  The Sweet Dreams Ocotal complex has studio apartments for sale starting at less than $50k.  The Villas La Colina and Pura Vida condominium complexes feature mid-range offerings while those at Vista Ocotal are more upscale.  If your budget allows, one of the oceanview estates dotting the mountainside could be your next home.  Prices range from $500k to over $1 million.
Facts
Geography: Sardinal District, Carillo Canton, Guanacaste Province, Costa Rica
Population: 14,912 (Sardinal District, 2011 census)
Weather:
Warmest month: April (average high 97 F, average low 77 F)
Coolest month: October (average high 89 F, average low 74 F)
Average annual rainfall: 60 inches (90% is between May and November)
Closest airport: Daniel Oduber Quirós International, Liberia (18 miles)
Closest hospital: San Rafael Arcangel, Liberia (24 miles)