Pacifico Resort Community in Playas del Coco
SCROLL DOWN TO SEE OUR LISTINGS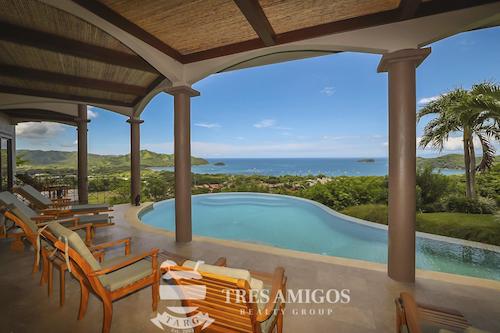 Close your eyes and picture living in a paradisiac garden right in the middle of a quaint beach community. Life is bustling right outside your main gate, but inside you are completely unaware. In your little world, there is only beauty and tranquility. Now open your eyes. Where is that secret world? In the residential area called Pacifico in Playas del Coco.
Pacifico is a gated and guarded resort community with a long list of amenities and conveniences. The development is comprised of 241 Condominiums and 155 Homesites along with several common Pools, a Beach Club Bar and Restaurant, Fitness Center and Retail Village to name a few of the amenities.
In the condo area the buildings are Mediterranean style and designed to allow for spacious living and privacy. Mature plantings all around block the view of neighbors but allow a clear view of the delicious pools. But more about those later. Units have 2 to 4 bedrooms and as many baths with high-end finishes, tile floors and high ceilings. All are pre-wired for phone, cable, and Internet access. Just before the entrance gate to the residential area are the Village Shops--25,600 square feet of shops, offices, cafes, restaurants, and a US-style supermarket.
Board the shuttle and in just a few minutes you are at the private Beach Club. The Beach Club Restaurant and Bar is housed in a two-story building of coastal design. The restaurant seats 60 persons in cool, air-conditioned comfort. Or your food and beverages can be served to you pool-side or on the lawn overlooking the beach.
One feature that raises Pacifico head and shoulders above the rest is its swimming pools—all 4 of them! They are HUGE, free-form turquoise lagoons that meander between the buildings. The undulating edges make for private conversation areas hidden by flowering plants and bushes. There is a large jacuzzi with hot, soothing bubbles spilling over into a quiet little corner of one pool. Another pool has a sloping entrance covered in flagstone with a fountain of water shooting up out of the middle of it. How the children love to play there! All around the pool deck are lounge chairs with soft, deep cushions under umbrellas--perfect for dozing off after a day of sun, fun and fresh air.
Numerous luxury ocean and forest view homes are available for sale. Would you prefer to build your own dream house just steps from all these amenities? Currently there are 41 homesites available for sale with panoramic ocean views or tranquil jungle views. All around you are gorgeous, upscale homes with million-dollar views. Nearby is a picnic area and hiking trails that pass by a waterfall.
If you are dreaming of paradise, you are dreaming of Pacifico.
Pacifico Amenities:
Gated entrance with guard
24/7 roving security
Paved roads
Stunning tropical landscaping and huge trees
Utilities onsite: water, electricity, high speed Internet, cable, telephone
Enormous community pools with waterfalls, fountains, children's area
Jacuzzi
Private Beach Club with pool, bar and restaurant
Lighted professional tennis courts
Golf courses in the area
Close to shopping, restaurants—1-3 minutes
30 minutes to Liberia International Airport (LIR)
40 minutes to San Rafael Arcangel Hospital (Liberia)