Real Estate Lomas del Mar
A Little About Lomas del Mar
SCROLL DOWN TO SEE OUR LISTINGS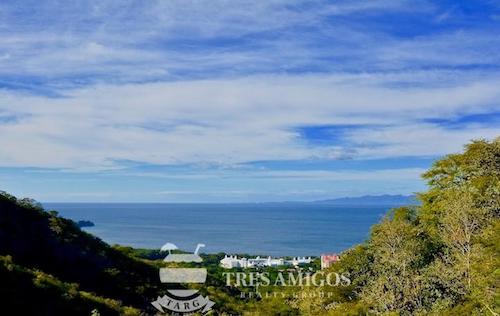 Do you long for quiet and tranquility? Are the only sounds you want to hear the wind in the trees, the song of birds or the call of monkeys? Do you crave privacy but also want to feel safe? Do you dream stepping out onto your patio and seeing the deep blue ocean displayed in all its glory before you? Then Lomas Del Mar is where you need to live. Lomas Del Mar is an ecologically-minded development in the mountains of Guanacaste overlooking the North Pacific Ocean and Gulf of Papagayo. The 600-acre community is divided into large properties of one acre or more surrounded by lush jungle and expansive green areas with trails for hiking and horseback riding. It is designed to embrace and cherish nature, thereby safe-guarding the biodiversity for which Costa Rica is famous. As a result, every property in this low-density community provides you with privacy and tranquility. Lomas Del Mar is also just minutes from one of the most beautiful, pristine beaches in Costa Rica, Playa Matapalo.
This private sanctuary is by no means isolated. Lomas Del Mar is just 15 minutes from the and the quaint Costa Rican town of Sardinal and the thriving beach community of Playas del Coco where you can find all the restaurants, shopping, services, and nightlife you want or need.
Lomas Del Mar is where nature meets luxury. Work out in the modern fitness center and then cool off in the horizon pool topping the highest point in the community. Feast your eyes on the 360-degree view of the mountains behind you and the bays, islands and peninsulas of the Pacific in front of you.
Everything about Lomas Del Mar was designed with your needs and preferences in mind. The utilities are underground, so there are no power lines to obstruct your view. There is an extensive, high quality water system of wells, tanks, and distribution pipes, all out of sight. The single entrance is gated and guarded. Security is 24/7 and includes a sophisticated camera system throughout the project and the use of ATVs and Razor carts to patrol.
And finally, Lomas Del Mar has a passion for horses as does Guanacaste in general. The 36,000 square meter Equestrian Center is strategically placed at the base of the project. There are 14 stalls to board your horse and rolling pastures for grazing or a quick canter.
Are you ready to build your dream house in this paradisaic location? Lomas Del Mar has designers and contractors ready to help your dreams become a reality. Once your home is complete, property management services are available to keep things in shape, safe or generating income while you are away.
Are looking for a profitable investment? You will be happy to know that real estate in Guanacaste has been and continues to be an area of great growth and return. The Flamingo Marina is soon to be completed and is just 20 minutes from Lomas Del Mar. The entire area is already experiencing the financial benefits of that project.
Lomas del Mar Amenities:
Single entry gate with guard
24/7 security with cameras and patrols
Well-maintained roads
Underground utilities: electricity, high speed internet, cable
State of the art water treatment system
Community infinity-edge pool
Fully equipped gym
Clubhouse for events and functions
Community orchards
Nature trails, ponds and waterfalls
Equestrian Center
Public golf course—15 min.
Shopping, restaurants--15 min.
Matapalo beach—7 min.
RIU hotel, casino, and restaurants—7 min.
Liberia International Airport--30 min.
San Rafael Hospital (private)--35 min.
Flamingo Marina—20 min.