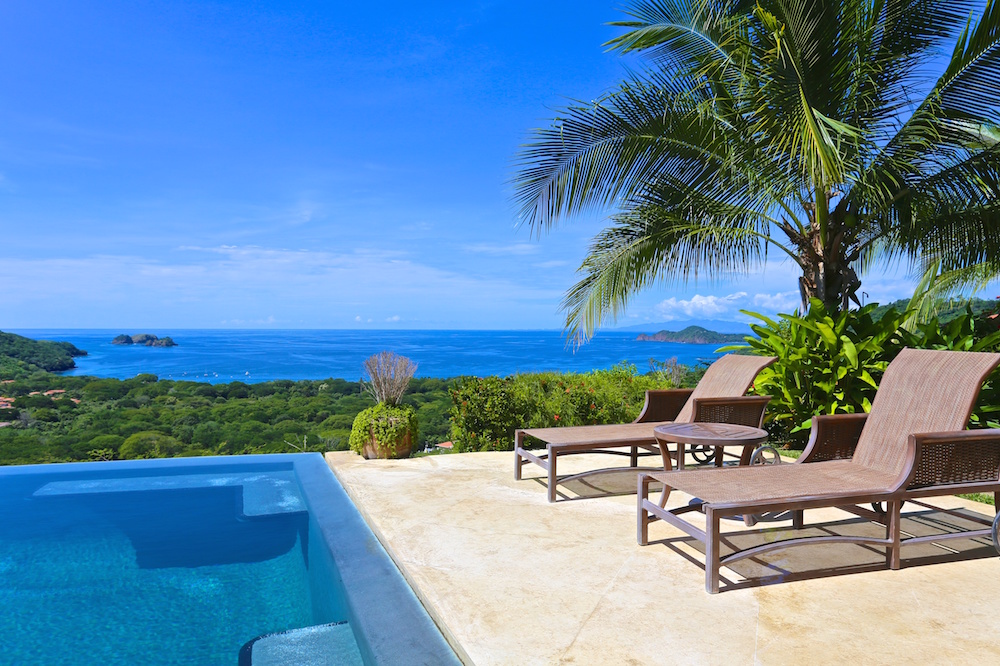 If Playas del Coco is too busy for your taste, but Playa Panama is too sleepy, Playa Hermosa may be just right. Separated by headlands from its neighbors, Playa Hermosa has just the right blend of peace and opportunity, solitude, and infrastructure. It's a place to get away from it all, but not too far away. Playa Hermosa's pristine beach and crystal waters were awarded the prestigious Blue Flag by the Costa Rican Tourism Institute for meeting their high environmental standards of cleanliness. It is a favorite of local and international visitors alike.
History of Playa Hermosa
A century ago, Playa Hermosa was a quiet fishing village on the shores of Bahia Hermosa. In addition to harvesting fish from the sea, villagers raised crops and cattle on the surrounding hillsides. The road into Playa Hermosa changed with the seasons: a dust bowl in the dry season and mud hole in the rainy season. The subsistence farming and fishing lifestyle began to change in the 1980s as tourists discovered the tranquil beach. Early entrepreneurs from North America built the first hotels: El Velero, Playa Hermosa Inn, and Villa del Sueno. Guide books spread the word far and wide, and visitors came from around the world to experience the peace and beauty for themselves. The gradual development shifted into high gear when nearby Daniel Oduber International Airport opened to international flights in 1995.
Restaurants
Playa Hermosa packs an amazing variety of restaurants in its relatively small area of about one square mile. Ginger is consistently rated as the top restaurant in town. While specializing in Asian dishes, as the name implies, Ginger also offers tapas-style Mediterranean cuisine. Patrons rave about the food and the setting--it's like dining in a treehouse. La Casita de Mariscos trans-lates to "little house of seafood". Its beachside setting is great to catch the sunset, the portions are enormous, and the fish is as fresh as you can get. At Aqua Sport, you can sink your toes in the sand while you sample the extensive beer selection or their chilimango specialty drink. Their menu features everything from a typical Costa Rican breakfast to burgers to seafood. El Velero Restaurant, located in one of the original beachfront hotels, offers a variety of international dishes and local specialties. Their Taco Tuesdays and BBQ nights on Wednesday and Saturday are popular. Enjoy live music on the weekend at Villa del Sueno restaurant. And you're sure to find a shrimp, pasta, or vegetarian dish you like. If you have a taste for wood-fired oven thin crust pizza, head to Ristorante Pizzeria Bocelli at Villas Playa Hermosa Beach Hotel.
Shopping
You'll find most of the things you need right in Playa Hermosa, and if not, they are not far away. Supermercado Luperon, right on the main highway through town, offers the widest selection of local and imported foods in Playa Hermosa. Super Dayi and other neighborhood markets are conveniently located to grab and go. If you can't find what you're looking for in Hermosa's stores, Automercado is just 5 miles away in Playas del Coco. You'll feel like you're walking into an upscale supermarket in North America. It boasts the widest variety of any Costa Rican su-permarket. Walmart and Pricesmart, located just 30 minutes away in Liberia, sell housewares, electronics, clothing, and appliances.
Things to do
If you're looking for a place to relax and enjoy the scenery, choose a bench in the shade of a palm on Playa Hermosa and take in the stunning bay and majestic mountains. When the Pacific Ocean beckons you, you'll find the water warm and the waves gentle. The beach has no riptides or undercurrents, so it's safe for children. The soft, gray sand is great for flying a kite, kicking a ball, or throwing a frisbee. If you're feeling more adventurous, rent a kayak, standup paddleboard, jetski, or snorkeling gear from a shop along the beach. Water taxis await to whisk you off to secluded beaches and islands waiting to be explored. Sportfishing and scuba diving are other great options.
Where to stay
Hotels El Velero and Villa del Sueno, originally built back in the 1980s when tourism was in its infancy, are still welcoming guests. Numerous similar small hotels are on or near the beach. Condovac, a large resort that stairsteps up the headland at the north end of the bay, offers fully furnished condos for nightly or weekly rental. At the other end of the lodging spectrum, Congos Hostel and Camping is just a block off the beach. Good long-term rental options can be found in town or on the mountainside in the Hermosa Heights development. If you'd like to buy your dream home in Playa Hermosa, several developers in the area offer property in gated communities with amenities, 24-hour security, landscaping, and full infrastructure. Offerings include Los Altos del Cacique, Monte Bello, Monte Paraiso, Bella Vista, Mar Vista, and the aforementioned Hermosa Heights. The hillsides that encircle the bay provide the perfect oceanview setting for your tropical home.
Facts
Geography: Sardinal District, Carillo Canton, Guanacaste Province, Costa Rica
Population: 14,912 (Sardinal District, 2011 census)
Weather:
Warmest month: April (average high 97 F, average low 77 F)
Coolest month: October (average high 89 F, average low 74 F)
Average annual rainfall: 60 inches (90% is between May and November)
Closest airport: Daniel Oduber Quirós International, Liberia (15 miles)
Closest hospital: San Rafael Arcangel, Liberia (21 miles)