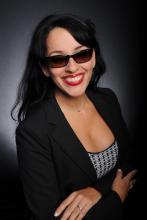 Jessica Fawcett 
My name is Jessica Fawcett and those who know me identify me by my ever present beautiful blue sunglasses. I don't wear them because I live in a beautiful country of sun kissed beaches and endless blue skies – I wear them because of a medical condition that makes my eyes hypersensitive to bright light of all kinds.
This is not an obstacle but rather an opportunity to be able to show those fortunate enough how to enjoy the beauty of what is everyday life in Costa Rica.
As a University exchange student in Costa Rica with a focus on archeology I learned to appreciate the legacy of my ancestors of this beautiful Country.
Before becoming a Sales Associate for Tres Amigos Realty in Playas del Coco I enjoyed over 8 years of experience in the hospitality industry and owned and managed an interior decorating and design business for 10 years.
I am now the Pacifico expert for Tres Amigos Realty here in Playas del Coco, Guancaste.
My ambition is to help you know our beautiful country and give you the true experience of Costa Rica with it stunning landscapes, clean air, open skies, inviting waters and above all introduce you to the kind and peace loving Costa Rican people.
I look forward to helping you.
Email address:
jessicacrproperties@gmail.com