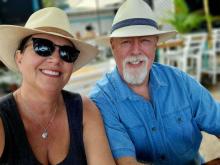 Combined we have over 30+ years of real estate sales experience and know that you will be confident in your choice to use the knowledge we have gained over all the years here in Costa Rica. We have teamed up with the most experienced real estate company in the area and are proud to be affiliated with Tres Amigos Realty Group.
A little about Ron Morrell
My life was on a "straight and level track" until about 15 years ago.  After my 7 years as a U.S. Air Force attack pilot, I turned to civilian aviation and made my career flying people around the world.  Back in the days of airline bankruptcies and consolidation, I started thinking that I may need a backup plan.  I decided to learn all I could about Real Estate in the Seattle area and eventually became a small franchise brokerage owner.  My goal in real estate evolved to include finding my eventual landing place when I got around to hanging up my flying wings.  At one of my many conventions, seminars, and training opportunities, I met Michael Simons at the Tres Amigos information booth.  Michael introduced me to Costa Rica in 2010 and I fell in love with the country, people, weather, and outstanding living conditions.  Within a year of my first visit, I was a condo owner in Playas del Coco.  After 31 years with the airlines and 10 years of being a part-time resident, I decided I needed to upgrade to a home in Pacifico development.  Just as my new home in the Pacifico had been completed, my company asked me if I wanted to retire early.  It was without hesitation that I cleaned up my cluttered life in the U.S. and headed South!  It's been a big move from flying passengers around the world and flying antique military airplanes in airshows, to the "Pura Vida" life.  Thanks to all the friends, relatives, and colleagues that have come to visit me, I've decided to re-kindle my real estate days.  The questions I get from all of them just remind me of what I learned about transitioning from the fast-paced, loud, crowded life I had "up North" to the quieter and much more laid-back life I have in Costa Rica.  I want to pass my lessons and knowledge on to others that are considering their real estate possibilities.
A little about Molly Loe
For the past 27 years or so, I have been helping people buy and sell real estate in Minnesota, USA.  I specialized in new construction and was content doing what I loved, helping people achieve the American Dream of homeownership.  Over all those years, my clients continue to trust me in their continuing real estate transactions.  Besides my passion for real estate, I also love to cook!  About 5 years ago, I started to share my passion for cooking with others and started a business teaching people to cook.  Sharing my passion for things I love is very natural for me!  Everything was moving along nicely in my life and then I made the decision to visit Costa Rica for the first time and fell in love with this beautiful country, people, and slower pace of living!  It didn't take me long to realize this is where I wanted to be.  I quickly decided to invest in the country and start my Costa Rican Residency process.  Now I can take my many years of real estate knowledge and share my passion for living in paradise.  So now I am a partner in Tuanis Sunset Realty in Playa del Coco, Guanacaste, Costa Rica.
Phone Number:
Phone US: +1-507-382-9798